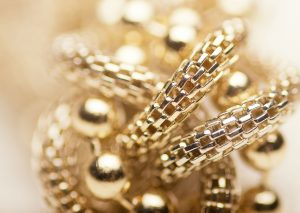 WE BUY GOLD
Where is the best place to sell gold in Manhattan?
The answer is simple – Romanov Buyers, Inc.
WE ARE EXPERTS
We have been buying gold and other fine luxury goods for over 30 years in Manhattan. Our staff includes certified appraisers and precious metal experts who are committed to providing the most accurate appraisals in New York City. We are top buyers of gold in NYC – estate jewelry, gold jewelry, charms, bracelets, chains, gold coins, rings, necklaces, gold bars and more.

WE REFINE OUR OWN GOLD
Romanov Buyers has an advantage over other gold buyers in Manhattan – we refine our own gold. This means we are able to pay customers top prices since we eliminate the middle man and pass the savings on to you. If you own unique designer jewelry, our experts factor in the overall value of your piece – not simply the value of the gold.

AMAZING CUSTOMER SERVICE
Our staff is courteous, professional and always available to answer your questions. Our goal is to provide an experience which will keep you coming back for years.

CONVENIENT LOCATION
Our location on 47th Street is open 7 days a week. Easily accessible from street level, we provide a comfortable waiting area as well as private offices where we review your items and perform appraisals. Free valet parking available.

IMMEDIATE PAYMENT
Choose your preferred form of payment: Check, Bank Transfer, PayPal or Cash..

We Buy Gold – All Types and Condition
Bent or Broken Jewelry
Class Rings
Dental Gold
Gold Earrings
Gold Bracelets
Gold Pendants
Gold Charms
Gold Coins
Gold Pins & Brooches
Gold Necklaces
Gold Rings
Gold Watches
Old scrap gold
Tangled Gold Chains
Looking For the Best Place To Sell Gold in NYC?
CALL or VISIT US for a free appraisal: (917) 566-1185. Our professional staff is here to help you get the most value possible for your gold.