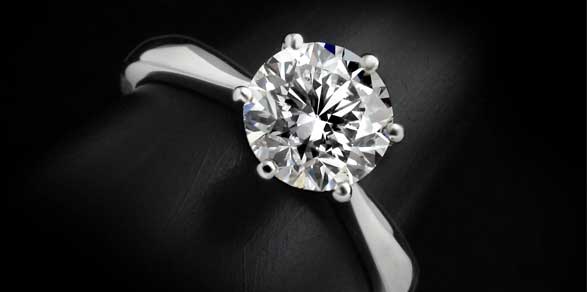 "Where To Sell Diamonds in NYC" ?
"Who Buys Diamond Jewelry in Manhattan"?
"Where Can I Sell My Diamond Engagement Ring?"
If you find yourself asking these questions, see the following list of helpful tips to consider when selling your diamond jewelry in New York City.
1. Know what you own.
First and foremost, do your research before selling your diamond jewelry so have a clear understanding of what you own and it's approximate value. This will allow you to properly evaluate any estimates or offers you receive. Get the advice of friends who have sold their jewelry recently or a diamond expert if you are not sure about what you own. Consider factors like the age of the jewelry, who made it, the designer and any other unique qualities which will influence its value.
2. When to sell your diamond jewelry.
If you are not in a hurry, you might want to consider internet based auctions or selling directly to individuals by advertising online. These options can be time consuming but might result in a higher price if you find the right buyer compared to selling to a professional diamond dealer. The downside is that it is time consuming and there may be additional fees when selling online. Most important, always think about your personal safety. It's much easier for a stranger to take advantage of someone selling expensive jewerly compared to a licensed dealer with an established business.
If you need cash quickly and prefer to deal with a professional diamond buyer, selling your diamond jewelry to a reputable dealer in Manhattan is your best option. A licenced dealer will have the expertise to appraise your diamond jewelry properly as well as the funds to buy your diamond jewelry on the spot.
3. The Price of Gold, Silver and Platinum
In addition to the diamonds and other gemstones in your jewelry, the value is also tied to the price of the precious metals used in the setting. If your jewelry contains gold, silver or platinum – check current market rates. If you think the price of precious metals is on the rise, you might want to hold on. If you think prices are on the decline, now might be the time to sell. The same goes for diamonds. Prices fluctuate based on supply and demand. A quick search on the internet will show you the current trends.
That said, if you need cash quickly, timing the market is not an option. Now is the best time to sell. In this case, finding a reputable dealer you trust is your best option to ensure you get the best price and service.
4. The 5 "Cs" and Diamond Shapes.
These are well published standards for determining the value of a diamond. It's worth brushing up on these basics before you offer your diamond jewelry for sale.
CUT
The cut of a stone is directly influenced by man, while the others are influenced by nature, and is one of the most important factors we consider when determining the value of your diamond. The "cut" is different than the shape – whether it's an oval shape, a pear shape or an emerald shape, a well-cut diamond is always better able to reflect light. When a diamond is being cut, the flat surfaces are placed at angles designed to maximize the amount of light reflected and to increase the beauty of the stone.
CLARITY
The clarity of a diamond refers to how clear, or "clean" the diamond is. In it's rough state, a dimaond is going to have imperfections, called "inclusions" (internal) and "blemishes" (external) – how severe the imperfections are determine the clarity of a diamond. A Certified Gemologist will grade the clarity of a diamond on a scale from "Flawless (FL)" to "Imperfect (I)."
COLOR
The best color is no color at all. The color is graded from sparkling colorless white towards the more fancy colors. An absence of color allows light to be reflected and dispersed most dramatically as a rainbow of color. The color of a stone is rated on an alphabetical scale, from D (totally colorless) through Z (light yellow).
CARAT
The weight of a diamond is expressed in carats. One carat is divided into 100 points, and stones that weigh less than a carat are sometimes measured in points (for instance, one half of a carat can be described as weighing 50 points or 0.5 carats). Carat weight refers only to the weight of a diamond, not its dimension. The higher the carat weight, the rarer the diamond, so a 2 Carat diamond is going to be more valuable than 2 1 Carat diamonds.
THE SHAPE OF A DIAMOND
The Shape of a diamond is a matter of personal preference – there is no particular shape that is more valuable than another. Here are some of the common shapes you can use as a reference when describing your diamonds to a buyer.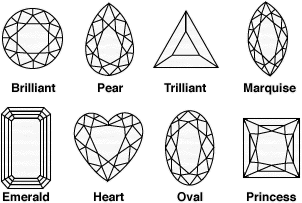 5. Select a Licensed Dealer and Get Multiple Offers.
In order to make the right decision, we recommended that you get multiple offers and select the dealer who offers the best combination of price and service. Only select dealers who are licensed by the New York City Department of Consumer Affairs and have been in business for a number of years. Be wary of anyone who makes you an offer without inspecting your diamond jewelry. It is fine to get an estimate over the phone or online to get a sense for current market rates. Reputable dealers will ask you to come to their store or send your diamond jewelry in for a proper appraisal. If possible, all appraisals should be done while you are present – preferably in a private setting.
Romanov Buyers, Inc.
Knowledge is the key to a fair price in the diamond market. We hope these tips help you learn more about your diamond jewelry and that you will consider Romanov Buyers, Inc. as your preferred option for selling your diamond jewelry in Manhattan, NYC. Our decades of experience and focus on quality customer service sets us apart from the rest. We look forward to serving you!
CALL OUR EXPERTSGET AN ESTIMATE